Hello We are currently overwhelmed with
reservation enquiries.
Currently we are in process of moving to a more accessible location and Renewing our fleet.
We will not be able to take reservations for 2019, but really excited to provide you with newer fleet of pop ups,
and small rv trailers etc. for 2020.
Also open to transferring this business
opportunity to interested party.
Please leave via email on the website, for an update.
Tent Trailer Rentals
in Sacramento CA
Trailer Rentals
Mom and Pop-Up
Camping, hunting, fishing,
or enjoying the beach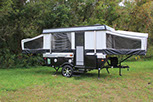 Special offers
Up to 5-6 people
Up to 7-8 people
916 769 1253

About
FAQs
Reach us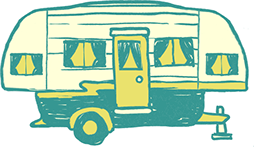 Booking

Contact with us
Camping, hunting, fishing, or enjoying the beach? These trailers are perfect. These pop up trailers are equipped with a heater, sink, water, stove, tables, battery, propane (we offer your first tank for free). We have two pop ups with hot water, an outside shower, and a whole house fan along with a regular one. We're Mom and Pop up Trailer rentals and are located in beautiful Sacramneto.
We reduce our rates ($ 50.00 a day) after the third day. We require a $50.00 reservation deposit. This deposit will be deducted from your rental cost at the time of pick up. And $150.00 cleaning/damage deposit. When you return the pop up clean and without damage, the cleaning deposit will be returned to you.
Our trailers range in size from sleeping 5-6 to 7-8 people comfortably.
If you are interested in getting away for a three day week-end or several weeks, these pop ups are a very comfortable way to go!
We are open all year, so if you're going visiting a friend or relative, or heading to your favorite vacation spot, one of these pop ups will make your stay more comfortable.
Plan ahead and give us a call at 916-769-1253
Copyright 2019 momandpopuptrailerrentals.com
Our contacts
Adress :
Phone : +1 916-769-1253
email : momandpopuptrailers@gmail.com
Where are you located?
What is the weight of the tent trailer?
We are located in Sacramento, CA.
Are tent trailers difficult to hook up or operate?
Depending on the model: 1450 to 1800 lbs dry weight. Allow for 80% of what is recommended by the vehicle manufacture as you may fill the lower walkways with luggage and other items.
No. Please allow up to 45 minutes while we demonstrate the use and proper hook up of the unit. Each unit comes with an Instruction Guide to refresh memories.
How LONG IS THE TENT TRAILER WHEN IT IS OPEN?
Depending on the model: 19' to 22'.
How do I know if my vehicle can tow a tent trailer?
How long and wide is the "box"?
Check your vehicle owner's manual for towing limits. Allow for 80% of what is recommended as you may fill the lower walkways with luggage and other items.
Depending on the model: 8' to 12' long and 7' wide.
How much weight can be put on the beds when they are extended?
Do you install hitches and wiring for trailer lights?
Approximately 400 lbs each.
No. Find a reputable dealer to install these for you. Your vehicle must come equipped with a 7-round or 4-prong flat plug and receiver with a 2″ ball.
How do I know if the wiring on my car works?
Test the electrical wiring of your vehicle before picking up your rental.